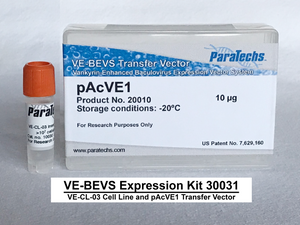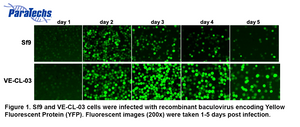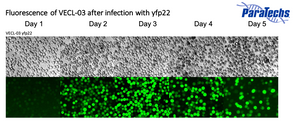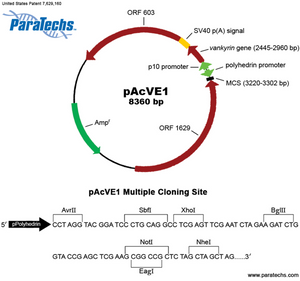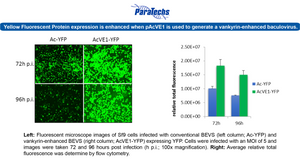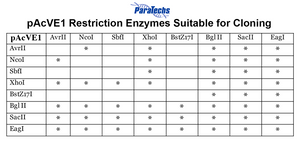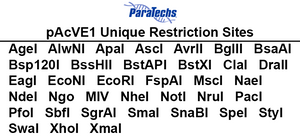 VE-BEVS Complete Kit 30031 contains Product 10030 Insect Cell Line (VE-CL-03) and Product 20010 Transfer Vector (pAcVE1).
• VE-BEVS Insect Cell Line 10030 (1x10⁷ cells; frozen) (VE-CL-03) General enhancement of most recombinant proteins. Harmonized Tariff: 3002.90.5150
• VE-BEVS Transfer Vector 20010 (10 µg) (pAcVE1) Co-expression of vankyrin gene for increased protein production.
Advantages

VE-BEVS Insect Cell Line 10030
Engineered monoclonal Sf9 cell line stably expresses a vankyrin gene

Mycoplasma free

Up to 14-fold increase in protein yield as compared to parental Sf9 cells

Prolonged longevity of cells after infection with a baculovirus compared to parental Sf9 cells
Increased baculovirus titer

Compatible with all conventional BEVS

Reduced cost and labor

Expression of recombinant protein may need to be optimized by testing different time points and MOIs.
Transfer Vector 20010 (pAcVE1)
This baculovirus transfer vector 20010 (pAcVE1) integrates the co-expression of a 

vankyrin

 gene from the p10 promoter for the increased production of gene of interest from the polyhedrin promoter.
Documents
VE-BEVS Cell Line Instructions [PDF]
Transfer Vector pAcVE1 [PDF]
Contract service for introducing the vankyrin gene into a custom insect cell line is available upon request.
Patent information:
VE-BEVS Cell Line United States Patent 7,842,493 [PDF]
VE-BEVS Transfer Vector United States Patent 7,629,160 [PDF]