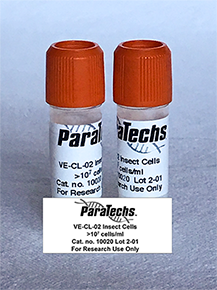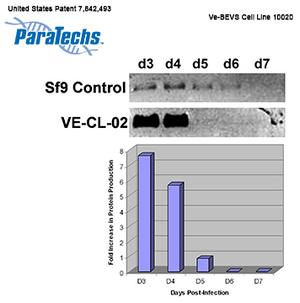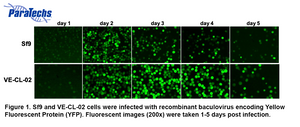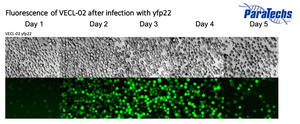 Protein Expression Products
VE-BEVS Insect Cell Line 10020 (1x10⁷ cells; frozen) (VE-CL-02) Enhanced expression of highly unstable or toxic proteins.
10020
$800.00
ParaTechs' Vankyrin-Enhanced Baculovirus Expression Vector System or VE-BEVS technology enhances protein expression from the BEVS while reducing the cost of labor and materials. Vankyrin-Enhanced Insect Cells (VE cells) are transgenic insect Spodoptera frugiperda (Sf9) cells that have been engineered to stably express the Campoletis sonorensis ichnovirus P-vank-1 protein (Steele et al., 2017; Fath-Goodin et al., 2006; Kroemer and Webb, 2006). Sf9-derived VE-CL-02 cell line suitable for the enhanced expression of highly unstable or toxic proteins. The cells are sold in batches of 1×10⁷/ml cells in serum-free medium and need to be stored in liquid nitrogen. Please note this product ships on dry ice so additional shipping charges may apply. This product is intended for research purposes only.
Harmonized Tariff: 3002.90.5150
Advantages

Engineered monoclonal Sf9 cell line stably expresses a vankyrin gene.

Mycoplasma free

Up to 7.5-fold increase in protein yield as compared to parental Sf9 cells

Enhanced protein expression occurs at a very high level over a very short time interval

Prolonged longevity of cells after infection with a baculovirus compared to parental Sf9 cells
Increased baculovirus titer

Compatible with all conventional BEVS

Further enhancement can be achieved in combination with ParaTechs' pAcVE transfer vectors (Product No. 20010, 20020 or 20030). 

View our VE-BEVS Insect Cell Line 10020 Complete Kits 

30021

, 

30022

 and 

30023

 for more information.

Reduced cost and labor

Expression of recombinant protein may need to be optimized by testing different time points and MOIs.
Documents
VE-BEVS Cell Line Instructions [PDF]
Contract service for introducing the vankyrin gene into a custom insect cell line is available upon request.
Patent information:
VE-BEVS Cell Line United States Patent 7,842,493 [PDF]
VE-BEVS Transfer Vector United States Patent 7,629,160 [PDF]